Posted At: Oct 19, 2023 - 41 Views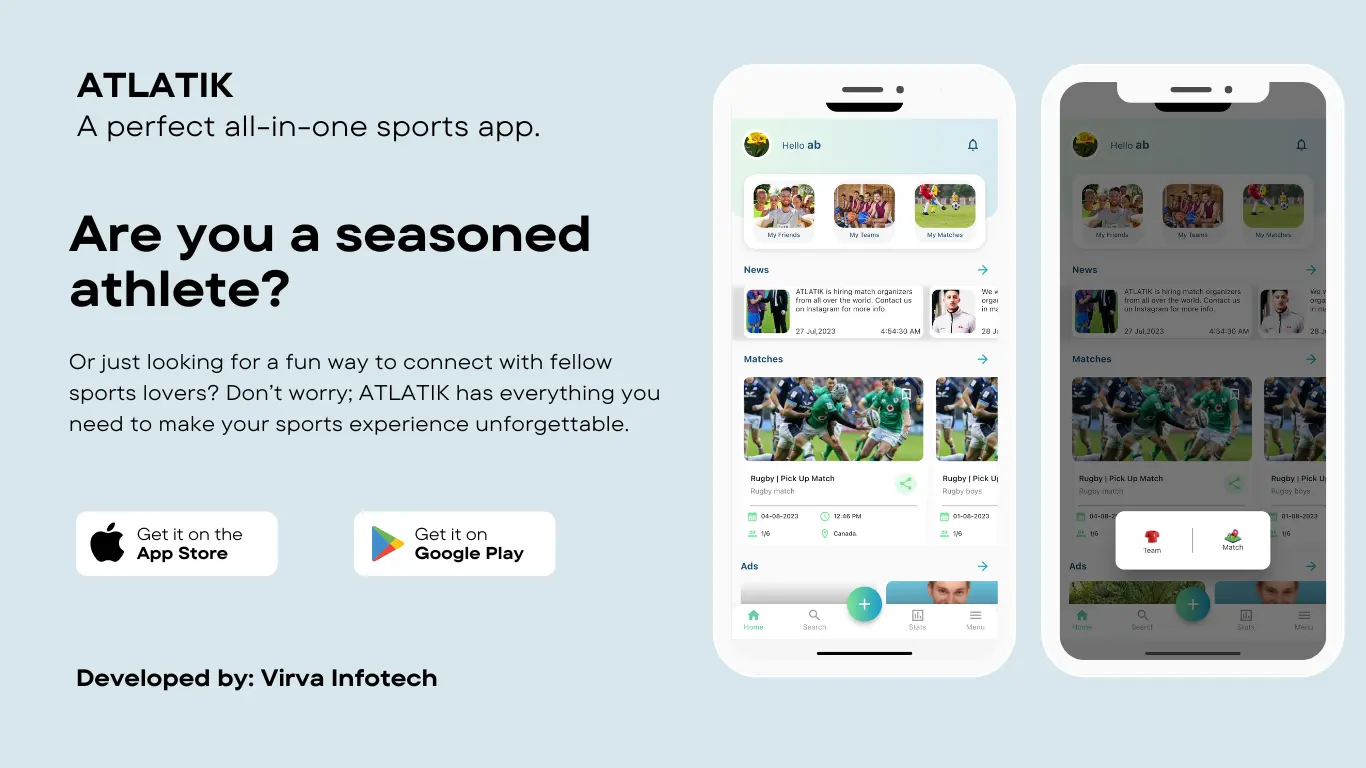 ATLATIK isn't just a platform to showcase your talents. It allows you to form your dream sports team without any hassle. Just invite your buddies and other users to join your team or accept amazing invitations from fellow sports enthusiasts.
Best features of ATLATIK:
1. Seamless and secure user authentication through various options (Google, Facebook, Apple, Email, and Password).
2. Personalized profile creation
3. Creating and leading sports teams for various sports
4. Inviting users, friends, and teams to join your team
5. Accepting or rejecting team join requests
6. In-app chat for seamless team communication and updates
7. Organizing matches for different sports.
8. Accepting or rejecting match requests.
9. Editing match details like sport, date, time, and location.
10. Recording points for home and away teams after matches.
11. Selecting the Most Valuable Player (MVP) based on exceptional performances.
12. multi-language support
13. Viewing match lists, including Upcoming, Invited, and Past matches.
14. Viewing team lists, including Received Invitations, Sent Requests, and Current Team Memberships.
15. Managing friends list, and friend requests for meaningful connections.
User Authentication and Profile Creation
The user authentication process of ATLATIK is seamless and secure. So, You can log in through popular platforms such as Google, FB, and Apple or create an account using your email and password. Your onboarding experience will be awesome.
Team Management and Communication
ATLATIK revolutionizes team management and communication. Hence, it won't be tough for team creators to create and lead their dream sports teams. As a team creator, you enjoy the freedom to form teams for any sport and invite various users to join. Uninvited users can request to join your team. So, you also enjoy the flexibility to accept or reject these requests.
Match Creation and Management
ATLATIK offers comprehensive match creation and management features. So, it becomes easy to organize thrilling sports matches. Whether it's football, basketball, cricket, or any other sport, ATLATIK caters to a wide range of sports. So, every athlete and sports enthusiast finds their perfect match with ease.
Points and MVP Selection
ATLATIK brings excitement to the post-match experience. It offers a seamless points recording system for both home and away teams. After an intense match, the app allows match organizers or team captains to input the final scores. This ensures accurate and fair results. You can celebrate victories and acknowledge the efforts of all teams involved. This creates a sense of accomplishment and healthy competition.
Search and Filters
ATLATIK's search and filter feature makes it among the best apps for athletes by simplifying the process of discovering for you. You can easily find users, matches, and teams you prefer to join and engage with. It helps you effortlessly connect with the right sports enthusiasts and events. Also, you can easily search for specific individuals, matches, or teams with ATLATIK.
Download Application from here : https://play.google.com/store/apps/details?id=com.atlatik.io