Posted At: Oct 19, 2023 - 52 Views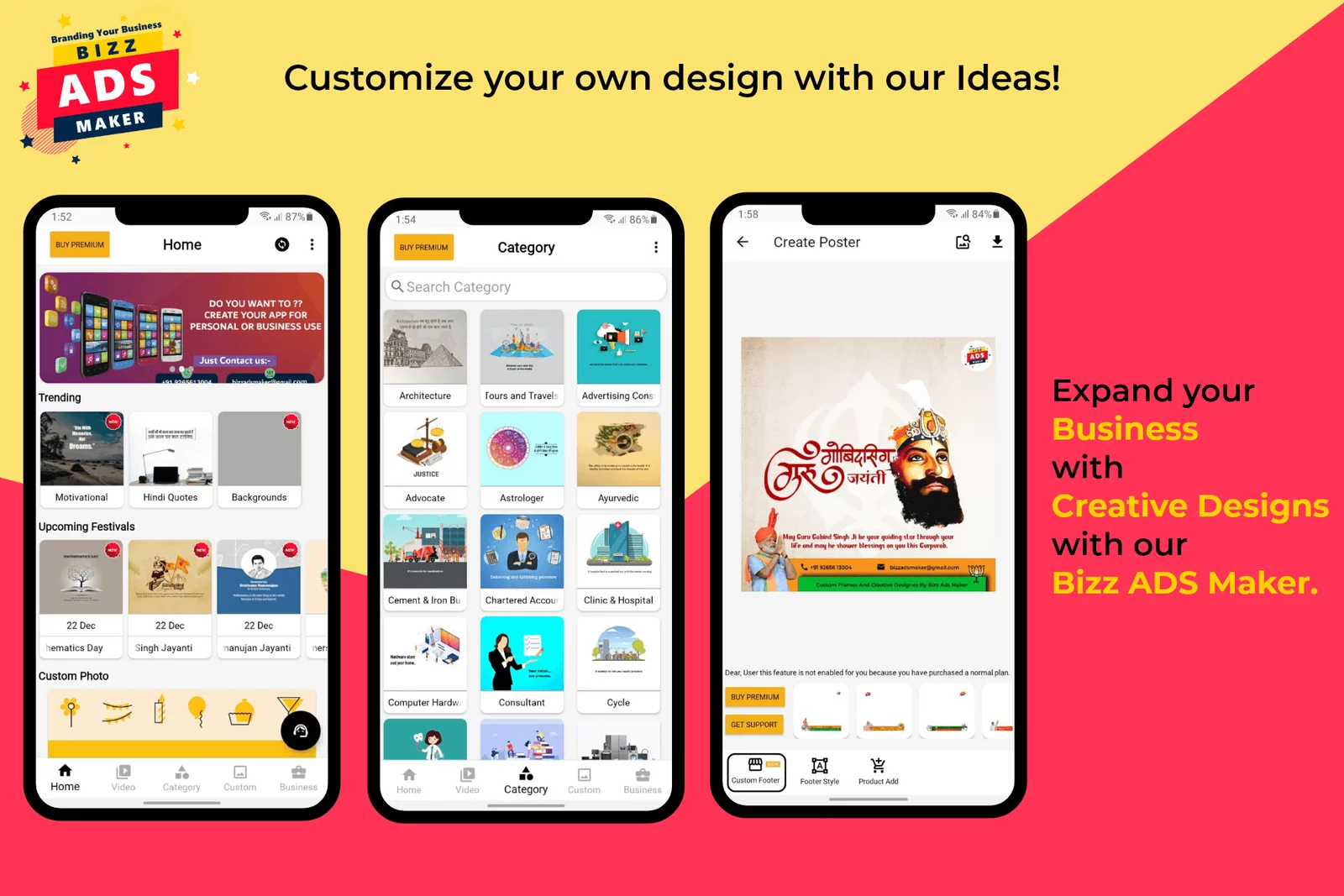 Bizz Ads-Festivals Poster Maker App is meticulously crafted to serve as a powerful tool for promoting business content on various social media platforms while also facilitating the creation and sharing of Indian Festival Posts and Business banners on platforms such as WhatsApp, Facebook, Instagram, YouTube, Twitter, and more. 
This versatile Advertising Poster Maker application empowers users to design digital posts and marketing banners in multiple languages, including English, Hindi, Gujarati, Tamil, Telugu, and Marathi.
Designed with the needs of entrepreneurs, small companies, mini retail stores, bloggers, and individuals in mind, Bizz Ads Festival Video Maker App is a comprehensive solution for creating Indian Festival banners and business ads for personal and professional use. Whether you're a small business owner or a part of a larger enterprise, this app offers a wide range of applications to meet your specific needs. 
Key Features:
Customization with Bizz Ads – Festival Greeting Card Maker:
Our Business & Festival Post Maker app is user-friendly, ensuring that no specialized skills are required to craft eye-catching posters.
How to Use Bizz Ads-Festivals Poster Maker:
Login: Access the app using your Google/Facebook ID.
Select Business Tab: Begin by selecting the 'Business' category.
Add Business Details: Enter essential business details such as Name, Logo, Email, Address, Phone, and more.
Choose Category: Select a category to create a relevant poster.
Image Templates: Explore a variety of image templates and choose the one that suits your needs.
Customization: Add your images if you wish to create a custom banner.
Preview: Review your design and make any necessary adjustments.
Download and Share: Your beautifully designed image is now ready for download and sharing.
Bizz Ads-Festivals Poster Maker App simplifies the process of creating visually appealing and effective digital content, making it an invaluable tool for businesses and individuals seeking to enhance their online presence and marketing efforts.
You can check our application from here :