Posted At: Oct 19, 2023 - 55 Views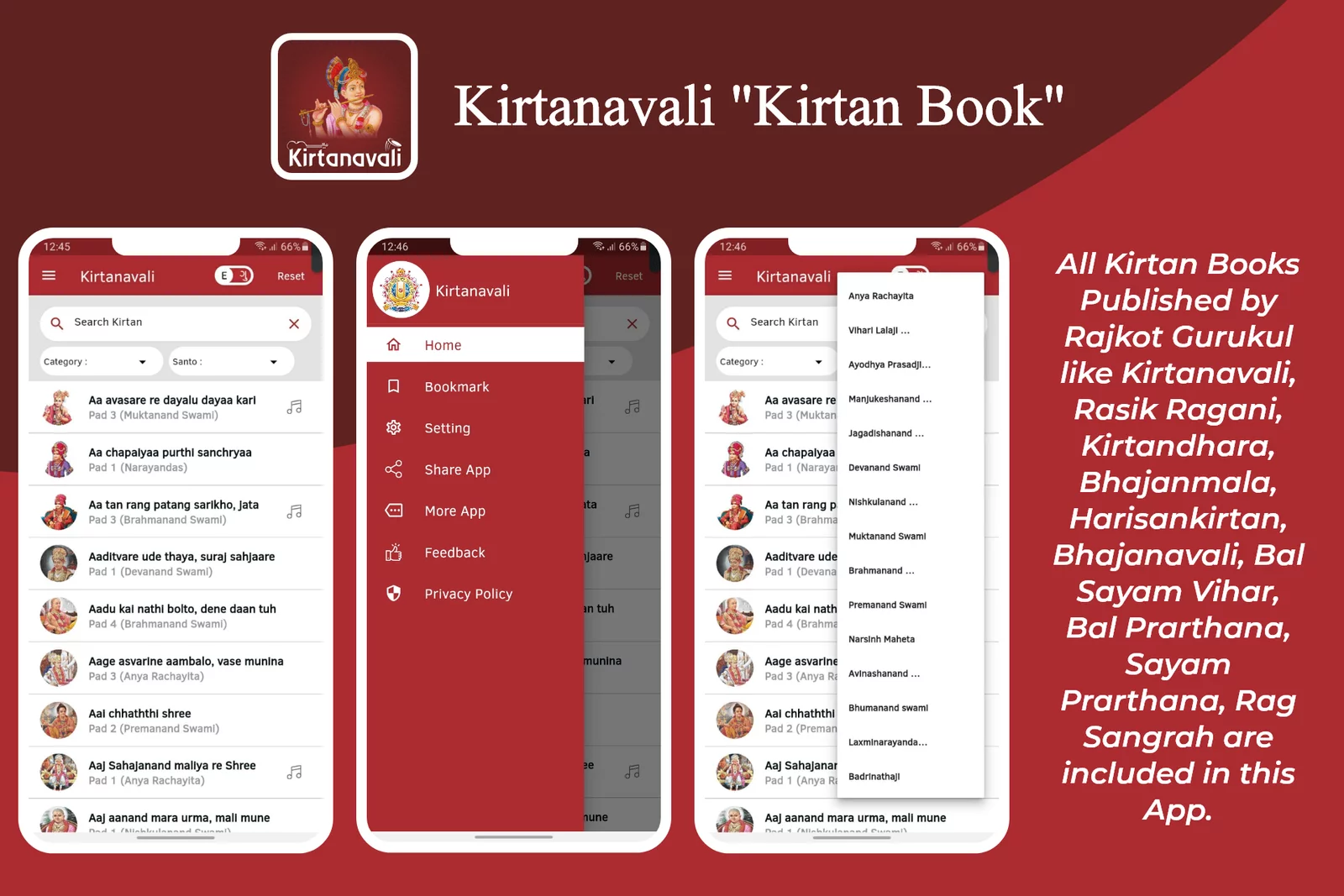 Within this application, you will discover the richness of Kirtan literature & you will find a comprehensive collection of Kirtan books published by Rajkot Gurukul, including titles such as Kirtanavali, Rasik Ragani, Kirtandhara, Bhajanmala, Harisankirtan, Bhajanavali, Bal Sayam Vihar, Bal Prarthana, Sayam Prarthana, and Rag Sangrah.
Interested individuals can listen to the Kirtan of Swaminarayan.
How does Kirtanavali App works:
Key Features:
Offline Reading: Enjoy the flexibility of using the application without requiring an internet connection.
Dual Language Support: All Kirtans are available in both Gujarati and English Lipi, enhancing accessibility.
Categorized Kirtans: Easily navigate through Kirtans organized by categories such as Ekadashi, Hindola, and composer Saints, simplifying your search.
Comprehensive Explanations: Complex or challenging words within Kirtans are thoroughly explained, ensuring clarity and comprehension.
Audio Integration: Audio files of Kirtans are provided to assist users in grasping the proper tune and melody of the Kirtans.
Historical Insights: Explore the history and context of Kirtans, enabling you to connect with the sentiments of the Nand Saints who composed them.
Bookmark Functionality: Save your favorite Kirtans for quick and convenient access.
Customizable Font Size: Adjust the font size to optimize your reading experience.
Efficient Search: Utilize the search function to easily locate specific Kirtans based on keywords or phrases.
Technology Stack: 
Flutter, REST API, SQLite, Music Library.
You can check the application from here: